Amazon App Quiz Answers Today 10.9.2020: Amazon Quiz answers on 10th September 2020 is available now. The participants can find the Amazon Pay Quiz Answers Today 10.9.20 here. The Contest will be live from 8 AM to 12 PM today. The aspirants who are willing to join the contest, they need to open the mobile app and answer for their quiz. The correct answer winner will be selected by random. The hashtag for "Amazon Quiz" is #QuizTimeMorningsWithAmazon. This is also called Amazon Morning Quiz.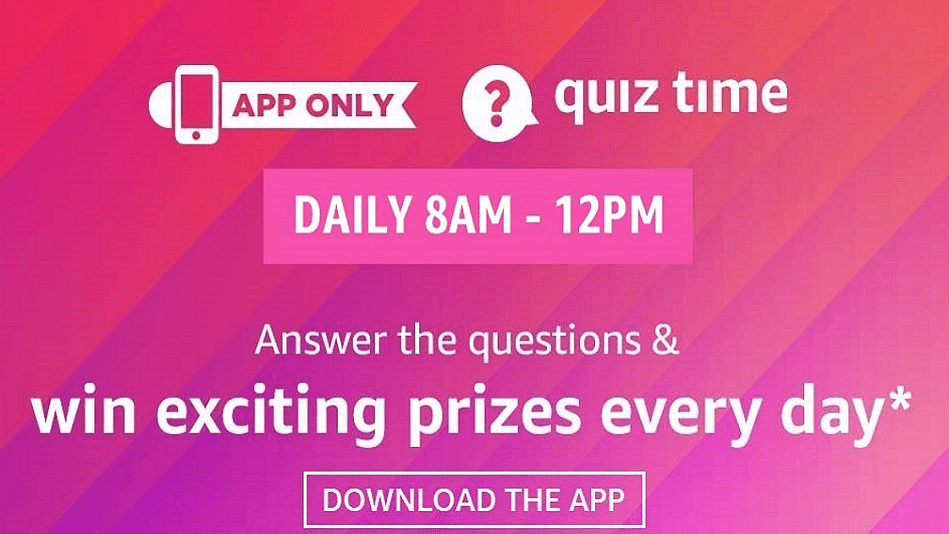 Amazon Quiz Highlights
Amazon Quiz 10.9.2020 Full Details
Company Name
Amazon
Platform
Android/IOS
Quiz Prize
Rs.50000 Pay Balance
Total Questions
5
Total Prizes
1
Quiz Date
10.09.2020
Winners List Date
Announced later
Amazon Quiz Answer Today 10.9.2020
Today Amazon App asked five questions to the contestants. Below you can find both questions and answers of today's amazon quiz question answers 10/9/2020.
Question 1: Kevin Mayer stepped down from his position as the chief executive officer of which social networking service that's owned by ByteDance?
Answer 1: Tiktok
Question 2: Which country recently discovered a large natural gas reserve off the Black Sea coast?
Answer 2: Turkey
Question 3: Bengaluru's Bannerghatta Biological Park recently named an elephant calf after which author and philanthropist?
Answer 3: Sudha Murthy
Question 4: Which West Indies allrounder recently became the first bowler to take 500 wickets in T20 cricket?
Answer 4: Dwayne Bravo
Question 5: Father Gaston Roberge, who recently passed away, set up the Chitrabani film studies institute with the help of which famous personality?
Answer 5: Satyajit Ray
How to Play Amazon Quiz on September 10, 2020?
The step-wise procedure below will be very much helpful to play the Amazon quiz on 10th September 2020. And this is a pure app only quiz, so you should have a mobile phone to play this quiz.
Step 1: Go to the play store and download the Amazon mobile app.
Step 2: Now, Open the Amazon app and sign in to your account. If you don't have an account, we suggest you signup.
Step 3: Go to the Home page of the app. And click on Offers.
Step 4: Now click on Amazon Quiz Banner 8 AM to 12 PM.
Step 5: Click on the Start Button, then enter the correct answers. After answering all the questions, you will be eligible for the amazon app quiz contest.
Who can play Amazon Quiz Today 10 September 2020?
All participants who have the mobile app are eligible to participate in Amazon Quiz. And the participant should have a minimum of 18 years of age.
Tricks to Win Amazon Quiz Today
There is no trick to win the amazon quiz today September 10, 2020. Only you need to give the correct answer for all five questions, then only you will be entering to the random selection process.