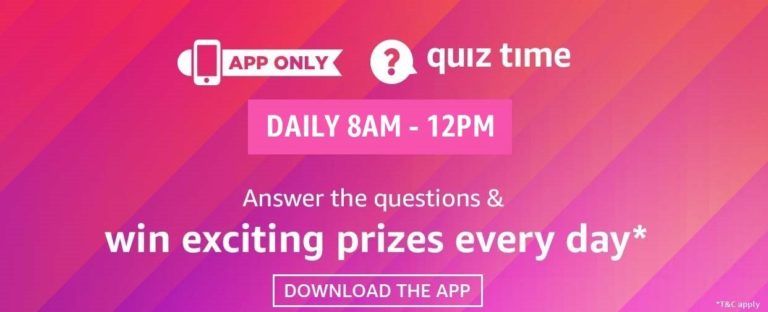 Amazon Quiz 23 January 2021, Correct Answers to Win Amazon Basics Smart LED TV Today: The great amazon quiz is live now. The Amazon quiz conducted daily from 8:00 AM to 12:00 PM. All Indian mobile app customers are eligible to participate. The participants can enter the lucky draw by answering all five questions. Here we have given Today's Amazon Quiz Answers on Jan 23, 2021, below. If you are a daily amazon quiz fun zone player, this article is right for you.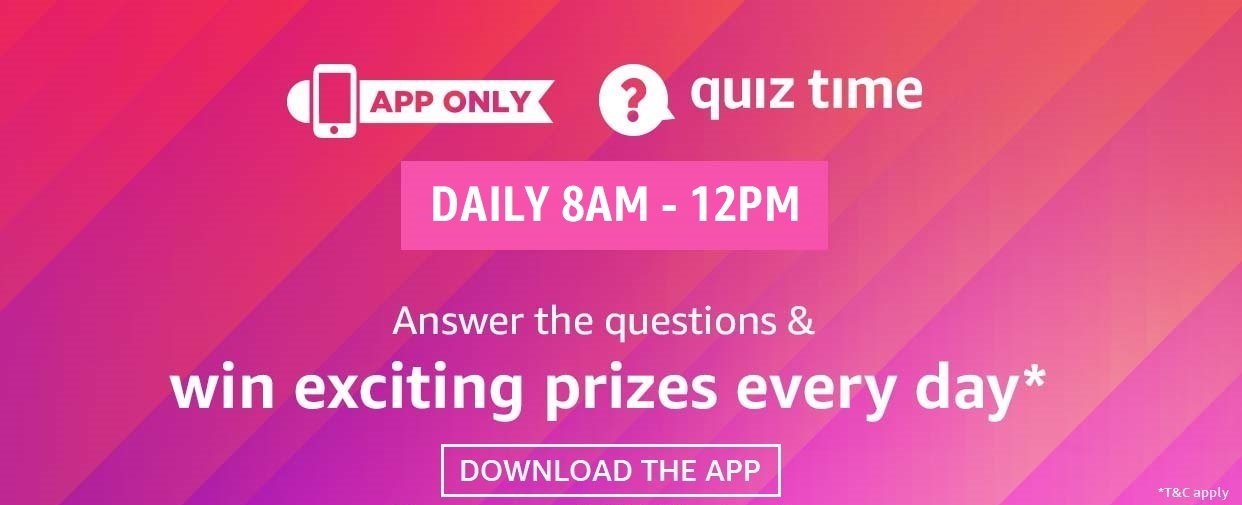 Amazon Quiz 23 January 2021 Highlights
Amazon Quiz Today 23 January 2021
Quiz Time
8 AM to 12 PM
Quiz Prize 
Amazon Basics Smart LED TV
Quiz Name
Amazon Quiz
Quiz Available on
Amazon Mobile App
Amazon Quiz Today 23 January 2021
If you are an Amazon Funzone quiz player, you can find today's quiz details below. The officials of Funzone will conduct the quiz for "Amazon Basics Smart LED TV".
Amazon Funzone Quiz Today 23rd Jan 2021
All Amazon quiz today questions and answers will be updated by 8:05 AM Today. The participants are requested to bookmark this page and visit again.
The questions and answers will be updated at 8:05 AM Today. Kindly stay with us.

Q1: 9-year-old Ella Kissi-Debrah is believed to be the 1st person in the UK to have what listed as the cause of death on the death certificate?
Answer 1: Air pollution
Q2: Swarnim Vijay Mashaal' was recently lit by PM Modi to commemorate the 50th anniversary of what?
Answer 2: Victory in the Indo-Pakistan War of 1971
Join & Get Amazon Quiz Answers Whatsapp
Q3: On December 21, 2020, a rare alignment between which two planets, also known as a Great Conjunction, occurred?
Answer 3: Jupiter and Saturn
Q4: Name the dance form.
Answer 4: Bharatanatyam
Q5: This professional football club is based in which City?
Answer 5: London
How to Play Amazon Quiz on January

23, 2021?
The step-wise procedure below will be very much helpful to play the Amazon quiz on 23 January 2021. And this is a pure app only quiz, so you should have a mobile phone to play this quiz.
Step 1: Go to the play store and download the Amazon mobile app.
Step 2: Now, Open the Amazon app and sign in to your account. If you don't have an account, we suggest you signup.
Step 3: Go to the Home page of the app. And click on Offers.
Step 4: Now click on Amazon Quiz Banner 8 AM to 12 PM.
Step 5: Click on the Start Button, then enter the correct answers. After answering all the questions, you will be eligible for the amazon app quiz contest.
Today Lottery Results 17.4.2021