Amazon Quiz 3 November 2020, Correct Answers to Win AO Smith Water Purifier Today: The great amazon quiz is live now. The Amazon quiz conducted daily from 8:00 AM to 12:00 PM. All the Indian mobile app customers are eligible to participate. The participants can enter the lucky draw by answering all five questions. Here we have given Today's Amazon Quiz Answers on Nov 3, 2020, below. If you are a daily amazon quiz fun zone player, this article is right for you.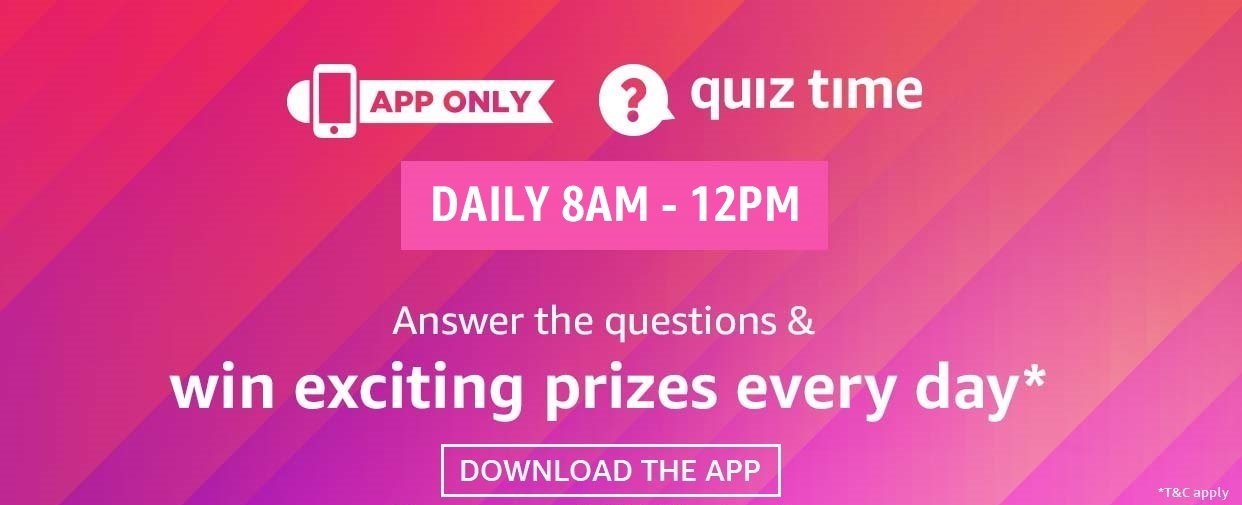 Amazon Quiz 3 November 2020 Highlights
Amazon Quiz Today 3 November 2020
Quiz Time
8 AM to 12 PM
Quiz Prize 
AO Smith Water Purifier
Quiz Name
Amazon Quiz
Quiz Available on
Amazon Mobile App
Amazon Quiz Today 3 November 2020
If you are an Amazon Funzone quiz player, you can find today's quiz details below. The officials of Funzone will conduct the quiz for "AO Smith Water Purifier".
Amazon Funzone Quiz Today 3rd Nov 2020
All Amazon quiz today questions and answers will be updated by 8:05 AM Today. The participants are requested to bookmark this page and visit again.
The questions and answers will be updated at 8:05 AM Today. Kindly stay with us.

Q1: Which of these cities has NOT hosted any matches during IPL 2020?
Answer 1: Ajman
Q2: Which Sportscar Car Brand Has Recently Launched A One-Off Model Named Omologata?
Answer 2: Ferrari
Join & Get Amazon Quiz Answers Whatsapp
Q3: Nagorno-Karabakh Conflict Is An Ongoing Dispute Between Which Two Countries Over A Disputed Territory In The Caucasus Mountains?
Answer 3: Armenia And Azerbaijan
Q4: Where Does The Brand That Manufactures Such Pieces Hail From?
Answer 4: Denmark
Q5: Which Ruler Is Responsible For The "Golden Beautification" Of This Temple?
Answer 5: Maharaja Ranjit Singh
How to Play Amazon Quiz on November 3, 2020?
The step-wise procedure below will be very much helpful to play the Amazon quiz on 3 November 2020. And this is a pure app only quiz, so you should have a mobile phone to play this quiz.
Step 1: Go to the play store and download the Amazon mobile app.
Step 2: Now, Open the Amazon app and sign in to your account. If you don't have an account, we suggest you signup.
Step 3: Go to the Home page of the app. And click on Offers.
Step 4: Now click on Amazon Quiz Banner 8 AM to 12 PM.
Step 5: Click on the Start Button, then enter the correct answers. After answering all the questions, you will be eligible for the amazon app quiz contest.