GPSC Industries Officer Syllabus 2021 PDF & Download Class 2 Exam Pattern: Are you searching for GPSC Industries Officer, Class 2 Syllabus? Yes, You are in the right place. The Gujarat Public Service Commission (GPSC) has officially released the Industries Officer, Class-2, and Industries & Mines Department Class-2 Posts Recruitment. The candidates eagerly check and prepare for the examination. So, we provided the GPSC Industries Officer, Class 2 Syllabus 2021 to score more marks in the GPSC Industries Officer, Class 2 Exam. Not only the GPSC Industries Officer, Class 2 Syllabus pdf you can also get the GPSC Industries Officer, Class 2 Exam Pattern from this page. So, candidates can prepare for the GPSC Industries Officer, Class 2 Exam 2021 without any disturbance. To the bottom of this page, you can easily get the GPSC Industries Officer, Class 2 Syllabus 2021 & Exam Pattern For Subject Wise Syllabus in PDF Format. The candidates can use this article to get more marks and ideas about the examination.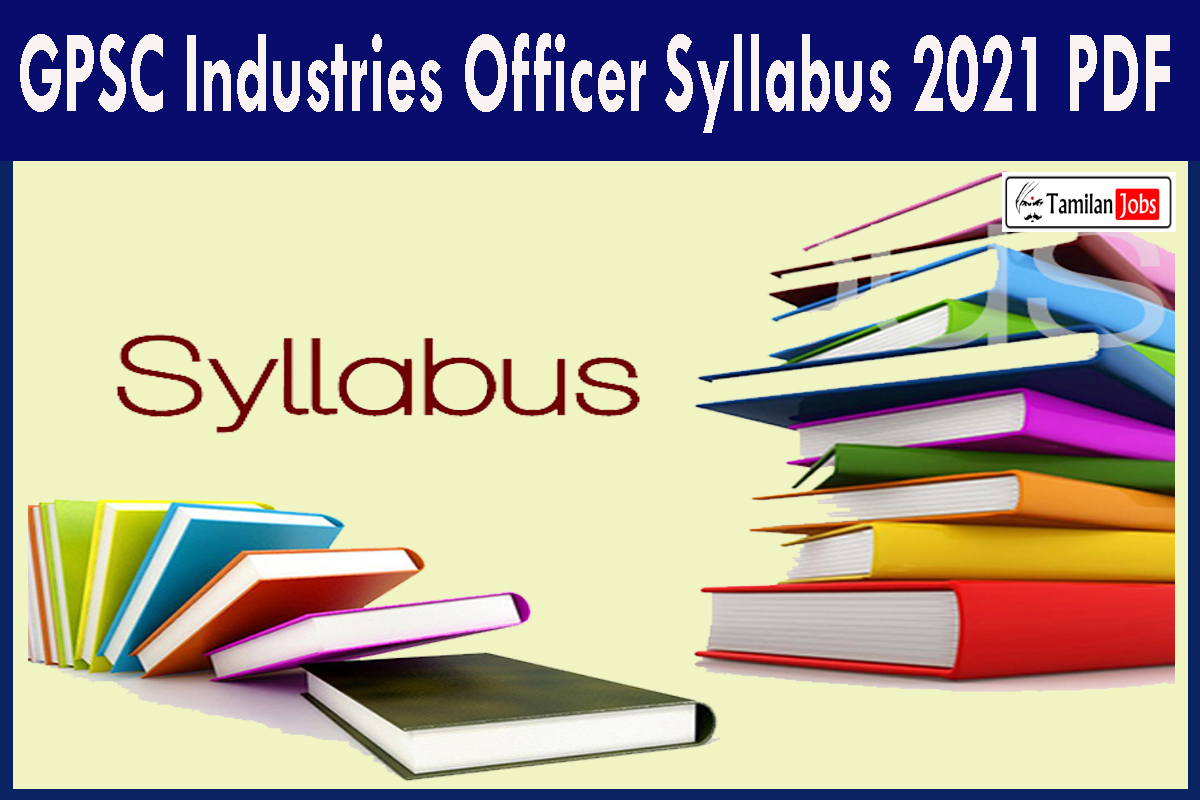 GPSC Industries Officer Syllabus 2021 – Details
GPSC Industries Officer Syllabus 2021 PDF & Download Class 2 Exam Pattern
Organization Name
Gujarat Public Service Commission (GPSC)
Post Name
Industries Officer, Class-2, and Industries & Mines Department Class-2 Posts
Category
Syllabus
Syllabus
Released
Job Location
Gujarat
Official website
gpsc.gujarat.gov.in
GPSC Industries Officer Selection Process 2021
The Selection will be based on 2 stages therefore
Candidates who are qualified for the Prelims Examination will be held on 01.08.2021; Shall be called for the interview.
GPSC Industries Officer Exam Pattern 2021
S. No
Part
Subjects
No of Questions
Total Marks
Duration
1
Part A
General Studies
100
100
3 hours (180 minutes)
2
Part B
Concerned Subject
200
200
Total
300
300
GPSC Industries Officer, Class 2 Syllabus 2021
General Studies
Geography of India and topics with special reference to Gujarat
The cultural heritage of India- Art, Religion, Literature, and Architecture- giving special reference to Gujarat
History of India and Gujarat
Indian Economy and Planning
General Mental Ability
General Science
Environment and IT and Communication
Events of importance from the regime of Regional, National, and International Sports sector.
Indian Polity and the Constitution of India
Preamble
Fundamental Rights and Fundamental Duties
Directive Principles of State Policy
Composition of Parliament
Powers of the President of India
Powers of Governor
Judiciary
Provisions for Scheduled Castes, Scheduled Tribes and backward classes of the society
Attorney General
NITI Aayog
Panchayati Raj Institutions
Finance Commission
Constitutional and Statutory Bodies: Election Commission of India, Union Public Service Commission, State Public Service Commission, Comptroller and Auditor General; Central Vigilance Commission, Lok pal, and Lokayukta, Central Information Commission
Part-II
Concerned Subjects for Industries Officer, Class-II (Gujarat Industrial Service)
1. Managerial Function and Process:
Concept and foundations of management, Evolution of Management Thoughts; Managerial Functions—Planning, Organizing, Controlling; Decision-making; Role of Manager, Managerial skills; Entrepreneurship; Management of innovation; Managing in a global environment, Flexible Systems Management; Social responsibility and managerial ethics; Process and customer orientation; Managerial processes on the direct and indirect value chain.
2. Financial Management:
The goal of Finance Function. Concepts of value and return. Valuation of Bonds and Shares; Management of working capital: Estimation and Financing; Management of cash, receivables, inventory and current liabilities; Cost of capital; Capital budgeting; Financial and operating leverage; Design of capital structure: theories and practices; Shareholder value creation: dividend policy, corporate financial policy and strategy, management of corporate distress and restructuring strategy; Capital and money markets: institutions and instruments; Leasing hire purchase and venture capital; Regulation of capital market; Risk and return: portfolio theory; CAPM; APT; Financial derivatives: option, futures, swap; Recent reforms in the financial sector.
3. Production and Operations Management:
Fundamentals of operations management; Organizing for production; Aggregate production planning, capacity planning, plant design: process planning, plant size and scale of operations, Management of facilities; Line balancing; Equipment replacement and maintenance; Production control; Supply, chain management—vendor evaluation and audit; Quality management; Statistical process control, Six Sigma; Flexibility and agility in manufacturing systems; World-class manufacturing; Project management concepts, R&D management, Management of service operations; Role and importance of materials management, value analysis, make or buy decision; Inventory control, MRP; Waste management.
4. Economic System and Business:
Economic System: capitalism, socialism and mixed economy, National Income, Monetary and Fiscal Policy (finance commission), Industrial Policy, Union Budget, Social Environment, Technological Environment, International Business Environment.
5. Government Business Interface:
State participation in business, Interaction between Government, Business and different Chambers of Commerce and Industry in India; Government's policy with regard to Small Scale Industries; Government clearances for establishing a new enterprise; Public Distribution System; Government control over price and distribution; Consumer Protection Act (CPA) and The Role of Voluntary Organizations in protecting consumers' rights; New Industrial Policy of the Government: liberalization, deregulation and privatisation; Indian planning system; Government policy concerning development of Backward areas/regions; The Responsibilities of the business as well as the Government to protect the environment; Corporate Governance; Cyber Laws.
6. Entrepreneurship:
Entrepreneur: meaning, importance, Qualities, nature types, traits, culture. Entrepreneurship and economic development: its importance, Role of entrepreneurship, entrepreneurial environment.
7. Constitutional Support and Framework for Entrepreneurship:
Institutions – All India, State Level and Fund-Based, Supporting Policies of Entrepreneurship, Industrial Policy, Fiscal Incentives, Measures for Promotion and Development of Entrepreneurs
8. Small Business & Management of MSMEs:
Concept & Definition, Role of Small Business in the modern Indian Economy, Small entrepreneur in International business; Steps for starting a small industry, registration as SSI, Role of SIDBI; advantages and problems of SSIs; Institutional Support mechanism in India; Incentives & Facilities, Govt. Policies for SSIs, Setting MSMEs- location of enterprise – steps in setting – Problems of entrepreneurs – Sickness in small industries – reasons and remedies – Incentives and subsidies – Evaluating entrepreneurial performance – Rural entrepreneurship – Women Entrepreneurship
9. Organizational setup and functions of various departments/ divisions/ institutions/ boards under:
Ministry of Commerce and Industry, Ministry of Micro, Small and Medium Enterprises, Ministry of New and Renewable Energy, Ministry of Power and Ministry of Food Processing Industries
10. Various Government Policies and Acts:
Gujarat Industrial Policy 2020; Gujarat Vibrant Summit; State Government's Cluster Development Policy and various R & D institutions; State Government's Cottage and Rural Industries Policy 2016; The Micro, Small and Medium Enterprises Development Act, 2006; Gujarat Micro, Small and Medium Enterprises (Facilitation of Establishment and Operation) Act, 2019; Comprehensive Agro Business Policy (2016-21) of Government of Gujarat; The Gujarat Special Economic Zones Act, 2004; Special Economic Zones Act 2005 of Government of India; The Gujarat Industrial Development Act, 1962; Electronics & IT ITes Start-Up Policy(2016-21); Gujarat Textile Policy 2012; Gujarat Mining Policy, 2003; Industrial Park, Logistic Park, Textile Parks; Diamond Industry; National Pollution Prevention Policy and Laws; Technology up-gradation Scheme; Central and State Government's Various Policies of the energy sector including Solar Power Policies
11. Various Schemes for Industrial Development of Central Government and Gujarat State Government
12. Industrial Finance in India: An Overview, Challenges and Recent Trends
13. Application of E-Governance and ICT in Industries
14. Current Trends and Recent Advancements in the field of Industrial Development.
Download GPSC Industries Officer, Class 2 Syllabus 2021 PDF
Candidates keep in touch with the TAMILANJOBS website for more information regarding Jobs, Exams, results and other details.