Guru Jambheshwar University Exam Results 2023 Out: B.Ed. and Bachelor of Elementary Education. The Guru Jambheshwar University successfully conducted the examinations for various courses, including B.Ed. (Part-Time) – 2nd Year (Main) (2020 Batch), Bachelor of Elementary Education- 2nd Year (Re-appear) (2020 Batch), Bachelor of Elementary Education– 1st Year (Re-appear) (2021 Batch), and Bachelor of Elementary Education- 3rd Year (Re-appear) (2019 Batch). The conduction of these examinations took place on the scheduled dates with meticulous planning and execution. The university ensured a smooth and organized process, adhering to strict guidelines and maintaining the integrity of the examination system. Check web.gjuonline.ac.in or Click the link given below to download the result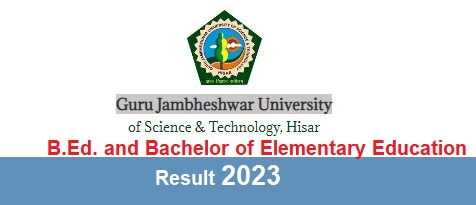 Guru Jambheshwar University Results 2023: B.Ed. and Bachelor of Elementary Education
Following the completion of the examinations, Guru Jambheshwar University released the results for the aforementioned courses on May 25th, 2023. The announcement of the results marks a significant milestone for the students who appeared in these exams. The university authorities meticulously evaluated the answer scripts, ensuring fairness and accuracy in the assessment process. The timely release of the results demonstrates the university's commitment to providing prompt and reliable information to the students, enabling them to plan their academic progression and future endeavors accordingly.
Guru Jambheshwar University B.Ed/Bachelor of Elementary Education Results 2023 Download Link
To download Guru Jambheshwar University B.Ed. and Bachelor of Elementary Education Exam Results 2023 Click Here
To go to the official website Click Here
Guru Jambheshwar University B.Ed/Bachelor of Elementary Education Results 2023: Downloading Steps
To download the result for the Guru Jambheshwar University examinations, please follow the step-by-step procedure outlined below:
Step 1: Visit the official website of the Guru Jambheshwar University web.gjuonline.ac.in
Step 2: Look for the "Examinations" or "Results" section on the homepage.
Step 3: Click on the relevant link for your respective course and batch.
Step 4: You will be redirected to a new page displaying the result login portal.
Step 5: Enter your credentials, such as your roll number or registration number, and any other required information.
Step 6: Verify the details entered and click on the "Submit" or "Login" button.
Step 7: Once logged in, your result will be displayed on the screen.
Step 8: Review your result carefully, ensuring all the necessary information is correct.
Step 9: If available, you may also have the option to download and save a copy of your result for future reference.
Step 10: Take a printout of your result if needed, keeping it as a record for official purposes.