SAIL Interview Date 2023 (Released): The Steel Authority of India (SAIL) has recently announced the interview date for the positions of Nurse and Radiographer for the year 2023. This news brings exciting opportunities for individuals seeking employment in the healthcare sector. SAIL is known for its commitment to excellence and offers a conducive work environment for its employees. In this article, we will delve into the details of the interview schedule and provide instructions on how to download it.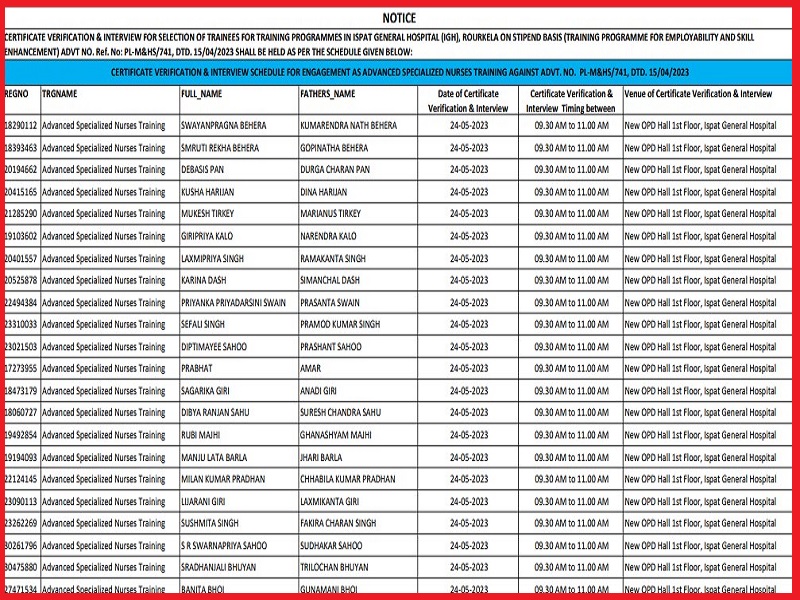 SAIL Interview Date 2023 – Overview
sailcareers.com Interview Date 2023
Organization Name
Steel Authority of India (SAIL)
Post Name
Nurse and Radiographer
Interview Date
May 24, 2023
Category
Interview Date
Official Site
sailcareers.com
SAIL Nurse & Radiographer Interview Schedule 2023
The interview for the Nurse and Radiographer posts in SAIL is scheduled to take place on May 24, 2023. This data serves as an important milestone for aspiring candidates, as it marks their chance to showcase their skills and secure a rewarding career with one of India's leading organizations.
sailcareers.com Interview Schedule 2023
To stay updated with the latest information regarding the interview schedule and other related announcements, candidates should visit the official website of SAIL at sailcareers.com. The official website serves as a reliable source of information, providing candidates with essential details about the interview process, application procedures, and important notifications.
How to Download SAIL Rourkela Interview Schedule 2023 Oline?
To download the SAIL Rourkela Interview Schedule 2023, follow these simple steps:
Step 1: Visit the official website of SAIL at sailcareers.com.
Step 2: On the homepage, navigate to the "Recruitment" or "Careers" section.
Step 3: Look for the specific section related to the Nurse and Radiographer posts.
Step 4: Click on the link provided for the interview schedule.
Step 5: The interview schedule will be displayed in PDF format.
Step 6: Download the PDF file and save it for future reference.
Download SAIL Interview Date 2023 << Click Here >>
Preparation Tips for the Interview
Preparing for an interview is crucial to increase your chances of success. Here are a few tips to help you get ready:
Research the organization: Familiarize yourself with SAIL's values, achievements, and future goals. This will help you align your answers with the organization's objectives.
Review your qualifications: Take time to revise your skills, qualifications, and experience relevant to the position. Be prepared to discuss how your expertise can contribute to SAIL's healthcare services.
Practice common interview questions: Anticipate and rehearse answers to common interview questions, such as explaining your strengths and weaknesses, previous work experiences, and how you handle challenging situations.
Dress professionally: Dress in formal attire to make a positive first impression. It reflects your seriousness and professionalism towards the interview process.
Be confident and articulate: Maintain a confident posture and speak clearly when answering questions. Showcase your communication skills and demonstrate your ability to work well in a team.
Note: The release of the SAIL Interview Date 2023 for the Nurse and Radiographer posts presents an excellent opportunity for individuals seeking a rewarding career in the healthcare sector. By following the steps mentioned above, candidates can easily download the interview schedule from the official website. Remember to prepare well for the interview and present yourself confidently, showcasing your skills and suitability for the position. Good luck to all the applicants in their endeavors to join SAIL and contribute to the organization's success.