Watch: 2 desi women create an astonishing optical illusion on the road, leaving viewers amazed. Optical illusions have always amazed people with their ability to trick our eyes and make us wonder what's real. Lately, some desi women have taken this fascination to a new level by creating amazing optical illusions on roads.
These women, who call themselves "Road Artists," have become popular on social media for their incredible creations. Using chalks, basic paints, and clever techniques, they turn ordinary roads into stunning works of art.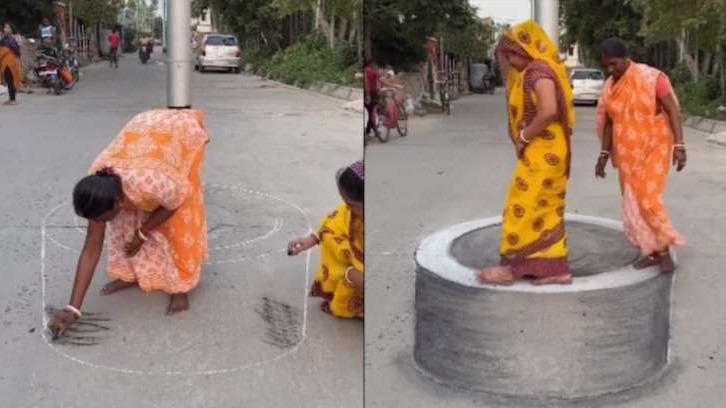 Punam Art Academy, an Instagram account, shared a video showing two desi women drawing a circle with great precision. They measured around a pole before filling the circle with white and black chalk. By dusting and brushing, the artwork magically turned into a lifelike cemented area around the pole. The video received a lot of attention, with over 139,000 views and 5,800 likes. Some users praised the women's skills, while others encouraged them to create more optical illusion art. Many people were amazed by the realistic nature of their creations.
Watch The Viral Video Here
View this post on Instagram
The Road Artists haven't stopped at just one optical illusion. They have made a collection of mind-boggling artworks that make us question what's real. Recently, the same page posted a video of a bridge in the middle of a lane. It got millions of views and left viewers amazed and inspired.
The women are using optical illusions to grab people's attention and make them reconsider their surroundings. Their creations make people pause and think twice about what they see, not taking things around them for granted.