WBPSC JE Syllabus 2022 Check West Bengal Junior Engineer Exam Pattern here: West Bengal Public Service Commission released the Junior Engineer (Civil, Mechanical, Electrical) Syllabus 2022. Candidates, who are applied for the exam can check WBPSC Junior Engineer Exam Pattern 2022 & download the WBPSC JE syllabus 2022 below in this article by using the direct link. Furthermore, the information you can visit the official site @ wbpsc.gov.in.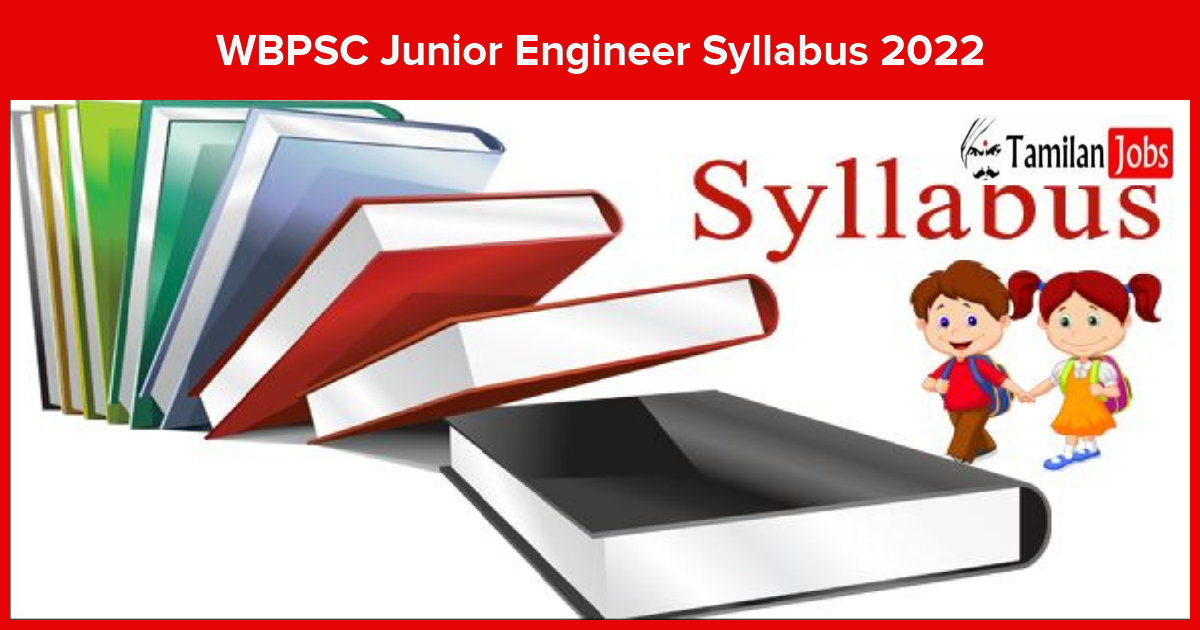 wbpsc.gov.in Junior Engineer Syllabus 2022 – Overview
WB Junior Engineer Exam Pattern 2022 Download
Organization Name
West Bengal Public Service Commission (WBPSC)
Post Name
Junior Engineer (Civil, Mechanical, Electrical)
Category
Syllabus
Syllabus Status
Available
Exam Mode
Written Exam
Official site
wbpsc.gov.in
WB JE Exam Pattern 2022
The examination will comprise two successive parts as follows:–
a) Written Examination – Full Marks – 200, Time – 2 hours: The written examination will consist of one paper covering Engineering subjects (Multiple Choice Objective Type Questions) for each of the three branches. There will be 100 questions carrying 2 marks each.
b) Interview – Full Marks – 100: A limited number of candidates, selected on the results of the written examination, will be called to Interview carrying 100 marks. The final merit list will be prepared on the basis of the total marks obtained in the Written Examination and the interview taken together.
WBPSC Junior Engineer (Civil) Syllabus 2022
1. STRENGTH OF MATERIALS
2. THEORY OF STRUCTURES
3. CONSTRUCTION MATERIALS & PRACTICE
Building Materials
Construction
4. FIELD SURVEYING
5. ESTIMATING, COSTING & CONTRACTS
6. PUBLIC HEALTH ENGINEERING
Water Supply
Sanitary Engineering
7. IRRIGATION
8. ROADS & HIGHWAYS
9. SOIL MECHANICS & FOUNDATION ENGINEERING
10. CIVIL ENGINEERING DRAWING
WBPSC Junior Engineer (Mechanical) Syllabus 2022
1. STRENGTH OF MATERIALS
Stress, Strain, Elasticity
Riveted Joints
S.F. and B.M.
Bending Stress
Torsion of circular shafts (solid and hollow)
Closed Coil helical spring
Deflection of beam
Columns and Struts
2. ENGINEERING MECHANICS
Centre of gravity and moment of Inertia
Work, Power, Energy
Transmission of Motion and Power
Lifting Machines
Friction
3. FLUID MECHANICS AND MACHINES
4. HEAT POWER
5. MANUFACTURING PROCESS
Heat treatment of Steel
Pattern Making
Molding
Casting
Welding and allied processes
Fitting
Mechanical working of metal
7. MACHINE TOOLS
WBPSC Junior Engineer (Electrical) Syllabus 2022
Materials: Conducting, Magnetic, Insulating, Contact, fuse materials, semi-conductor.
ELEMENTARY CIRCUIT ANALYSIS : D.C. Circuit : Star-delta conversion, Thevenin's theorem, Norton's theorem, Superposition theorem.
A.C. Circuit: Single Phase R, L & C Series, Parallel : resonance.
Three Phase: Star & delta connection, three phase 4 wire, neutral current measurement.
Measuring Instruments: D.C. & A.C. Ammeter & Voltameter; A.C. Wattmeters, Energy meters, Frequency meters, Reactive power measurement, maximum demand indicator; testing & errors of energy meters, Megar Insulation Tester, Earth Megar Tester.
Power Factor: Effects of low power factor; methods of improving power factor.
Motors: Type of D.C. Motors – Speed Control; Induction motors; Different types of starters D.C. & A.C.; Applications of different motors – D.C. & A.C. (single phase, three phase); Selection of motors for various types of load.
Transformers: Single phase, Three phase connection, methods of cooling, oil testing, properties, Auto-transformers, Parallel operation.
O.H. Line: Conductors : Types of poles, stays & struts, type of insulators and their applications; Feeders, distributors, service mains, radial & ring main feeder; primary & Secondary distribution of single phase and poly phase system; line sag on level ground.
Cable: P.I.L.C. & P.V.C. cable, methods of cable laying; cable rating & devating factor.
Protective Devices: Fuses – fuse elements, types; current limiting reactors; Thermal, electromagnetic, Induction type relays; Types of Circuit breakers to principle of operation, Isolators.
Earthing: Domestic installation & motors; pole earthing, Earth resistance measurement; Horn gap & thyrite type lightning arrestor.
Design, Estimating: Design of lighting Scheme in a hall, class room, workshop, electrical installation of machines in a small workshop, estimation of house service connection; design of small transformers upto 100 VA; Rate analysis factor governing it – specification & schedule of work.
Battery: Types of storage battery, different elements, charging methods, maintenance.
Generation: Various conventional & non-conventional sources of energy. Different tariff systems and bill calculation.
Electronics: Different types of transistors – their biasing & action; Amplifier – single stage transistor, multistage. Definition of gain, frequency response, bandwidth. Voltage & power amplifier difference; transformer coupled Class-B push- pull amplifier – advantages & disadvantages, uses, Feed back in amplifier.
Oscillator: Types; functions of filter circuits; different rectifier circuit. Indian Electricity Rules. Extra high voltage, High voltage Switchgears protections. Pumps, lifts, Air-conditioning–Basic principle of operation safety & control.
Conservation of Energy: G.L.S. Lamp – Energy Efficient Lamp. Illumination – Level of Illumination & Measuring.
WBPSC Junior Engineer Syllabus 2022