Amazon Finish Quiz Answers Win ₹5000: The great Amazon Finish Quiz is live now. The Amazon quiz is conducted daily from 8:00 AM to 12:00 PM. All Indian mobile app customers are eligible to participate. The participants can enter the lucky draw by answering all five questions. Here we have given Amazon Finish Quiz Answers on Jan 21, 2022, below. If you are a daily amazon quiz fun zone player, this article is right for you.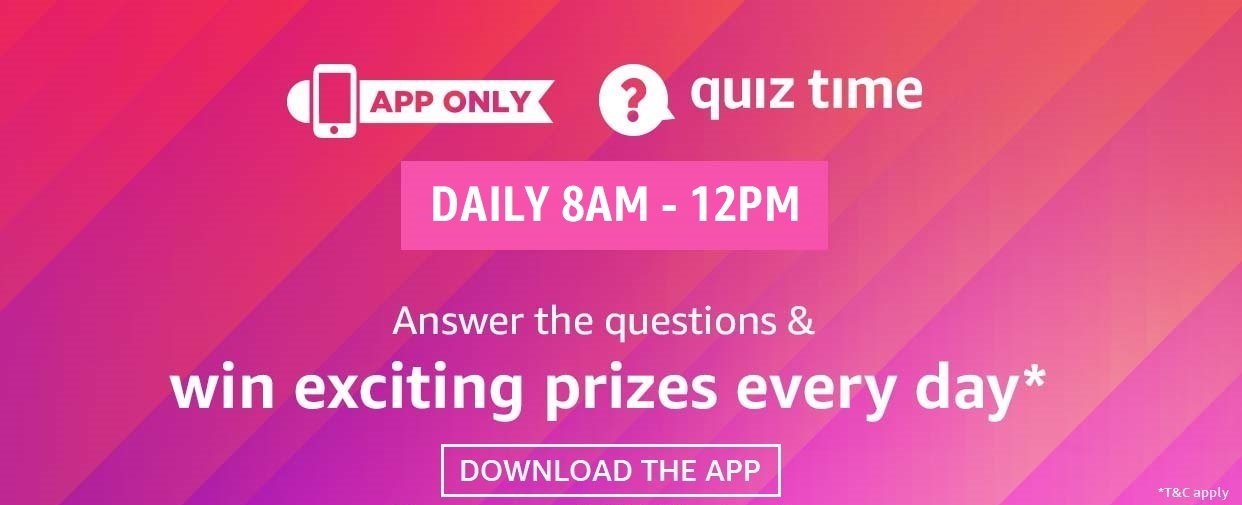 Amazon Finish Quiz Highlights
Amazon Finish Quiz
Quiz Time
8 AM to 12 PM
Quiz Prize 
5000
Quiz Name
Amazon Quiz
Quiz Available on
Amazon Mobile App
Amazon Finish Quiz Today 21 January 2022
If you are an Amazon Finish Quiz player, you can find today's quiz details below. The officials of Funzone will conduct the quiz for "5000".
Amazon Finish Quiz Answers Today
All Amazon Finish Quiz today questions and answers will be updated. The participants are requested to bookmark this page and visit again.
Q1: The Finish Quantum Ultimate dishwasher tablet provides all in one benefit which includes which of the following?
Answer 1: (D) All of these
Q2: Finish Quantum Ultimate has ultra ________ formulation. Fill in the blanks
Answer 2: (C) Degreasing
Join & Get Amazon Quiz Answers Whatsapp
Q3: The Finish Quantum Ultimate has biodegradable packaging and has ____ soluble film that dissolves completely faster. Fill in the blanks
Answer 3: (D) 100%
Q4: The Finish Quantum Ultimate works even in hard water conditions.
Answer 4: (A) True
Q5: Each tablet of Finish Quantum Ultimate has how many chambers?
Answer 5: (C) 3
Q6: Which of these is a feature of the Finish Quantum Ultimate?
Answer 6: (D) All of these
How to Play Amazon Finish Quiz
?
The step-wise procedure below will be very much helpful to play the Amazon Finish Quiz. And this is a pure app only quiz, so you should have a mobile phone to play this quiz.
Step 1: Go to the play store and download the Amazon mobile app.
Step 2: Now, Open the Amazon app and sign in to your account. If you don't have an account, we suggest you signup.
Step 3: Go to the Home page of the app. And click on Offers.
Step 4: Now click on Amazon Quiz Banner 8 AM to 12 PM.
Step 5: Click on the Start Button, then enter the correct answers. After answering all the questions, you will be eligible for the amazon app quiz contest.