AUAT Result 2022 Out Check Aliah University Admission Test Cut Off Marks, Merit List: The Aliah University Released the AUAT UG Result 2022 on 18th August 2022. Aliah University Admission Test Provisional Merit List 2022 was also declared for UG Courses yesterday. The Candidates who appeared for the AUAT and waited for the AUAT Result then visit the official site to get to know the Aliah University AUAT Result 2022. Aliah University AUAT Result link available end of this article.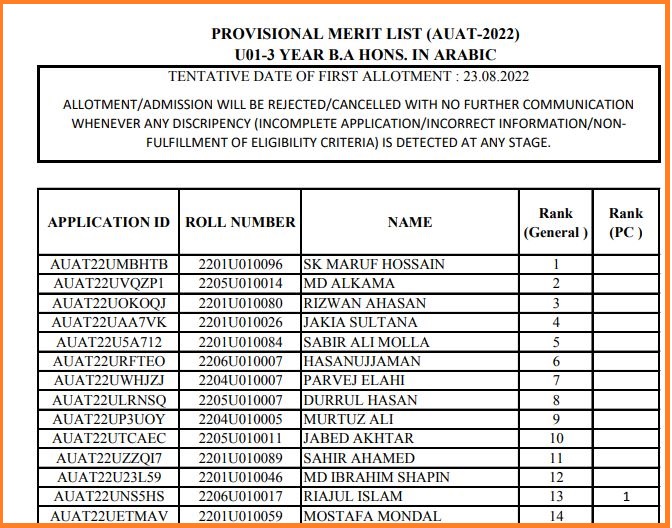 AUAT Result 2022-Details
Aliah University AUAT Result 2022
Name Of The Organization
Aliah University (AU)
Name Of The Test
Aliah University Admission Test (AUAT)
AUAT Result Status
Released
Category
Result
Exam Date
19.06.2022, 2.07.2022, 3.07.2022, 23.07.2022, 24.07.2022, 30.07.2022
Official Website
aliah.ac.in
AU Admission Test 2022
The Aliah University Admission Test 2022 was conducted on 19th June 2022, 2nd July 2022, 3rd July 2022, 23rd July 2022, 24th July 2022, 30th July 2022. The applicants who attended the AUAT those peoples now check their respective AU Admission Test Result 2022 here in this article or on else the University portal.
AUAT Cut off 2022
Usually Cut off marks are decided by the Officials of AU Each Course Admission has the Cut off marks according to some procedures through that calculation, the board declares the Cut off Marks for the Admission test. The Procedures stats like the Previous year's cut-off marks, The number of applicants who appeared for the exam, The total number of Seats,  and the Category. These all details involved in the calculation then end of the answer which decided by the officials and then released the result.
AUAT Merit List 2022
The Merit list is prepared by the board of the organization according to who gets the more marks compared to the cut-off Marks those all candidates are placed on the list that list called the merit list. Frankly telling most probably the candidates who scored greater marks to hit the cut-off marks that candidates mostly mentioned on the merit list which is made by the board of AUAT and announced through the official website along with result PDF or will separately released by the organization.
How to Download the AUAT Result 2022?
Go to official site @ aliah.ac.in
The home page will open on Screen
Check & find the Link
Then Click on  it, Then the login page will open on the screen
Choose the Merit List according to Ug Degree
Check & joined on the respective Result 2022
Links Given on Table candidates can check out Their respective domains by clicking on it. Check
| | |
| --- | --- |
| AUAT Result 2022 | Result Link |
| 3rd Provisional Allottment List of Programme Code U31-4 Year B.Sc in Nursing | Download |
| 2nd Provisional Allotment List of U22-Lateral Entry to 2nd Year of 4 Year B. Tech. Programme in Electrical Engineering  | Download |
| 2nd Provisional Allotment List of U22-Lateral Entry to 2nd Year of 4 Year B. Tech. Programme in Mechanical Engineering | Download |
| 2nd Provisional Allotment List of U22-Lateral Entry to 2nd Year of 4 Year B. Tech. Programme in Civil  Engineering | Download |
| 2nd Provisional Allotment List of U22-Lateral Entry to 2nd Year of 4 Year B. Tech. Programme in Electronics and Communication Engineering  | Download |
| 2nd Provisional Allotment List of U22-Lateral Entry to 2nd Year of 4 Year B. Tech. Programme in Computer Science and Engineering | Download |
| Admission by using Username and password:  | Click here |
| 2nd Provisional Allotment List of U01-3 year B.A Hons. in Arabic | Download |
| 2nd Provisional Allotment List of U02-3 year B.A Hons. in Bengali | Download |
| 2nd Provisional Allotment of  U03-3 year B.A Hons. in English | Download |
| 2nd Provisional Allotment List of U05- 3 year B.A.Hons. in History | Download |
| 2nd Provisional Allotment List of U06- 3 year B.A/B.Sc Hons. in Geography | Download |
| 2nd Provisional Allotment List of U09- 3 year B.A.Hons. in Islamic Studies | Download |
| 2nd Provisional Allotment List of U11- 3 year B.Sc. Hons.in Physics | Download |
| 2nd Provisional Allotment List of U-12- 3 year B.Sc.Hons. in Chemistry | Download |
| 2nd Provisional Allotment List of U33-5 year Integrated BBA-MBA | Download |
| NOTICE FOR PHYSICAL VERIFICATION OF DOCUMENTS FOR B.ED APPLICANTS, AUAT-2022 | Download |
| Notice for OFFLINE COUNSELLING for U13 (3-year B.Sc. Honours in Mathematics/ Statistics), U14 (3-year B.Sc. Honours in Botany/ Microbiology/ Zoology) and U21 ( 4 year B.Tech/ 3 year BCA) | Download |
| Provisional Combined Merit List of programme code U22-Lateral Entry to 2nd Year of 4 Year B. Tech Programne | Download |
| Provisional Merit List of Programme Code U22- Lateral Entry to 2nd year of  4 Year B.Tech Programme Electrical Engineering | Download |
| Provisional Merit List of Programme Code U22- Lateral Entry to 2nd year of 4 year B.Tech programme in Mechanical Engineering | Download |
| Provisional Merit List of Programme Code U22-Lateral Entry to 2nd year of 4 year B.Tech programme in Civil Engineering | Download |
| Provisional Merit List of Programme Code U22-Lateral Entry to the 2nd year of 4 year B.Tech programme in Electronics and Communication Engineering | Download |
| Provisional Merit List of Programme Code U22-Lateral Entry to 2nd year of 4 year B.Tech programme in Computer Science and Engineering | Download |
| Provisional Merit List of Programme Code U01-3 year B.A Hons. in Arabic | Download |
| Provisional Merit List of Programme Code U02-3 year B.A Hons. in Bengali | Download |
| Provisional Merit List of Programme Code U03-3 year B.A Hons. in English | Download |
| Provisional Merit List of Programme Code U04-3 year B.A Hons. in Urdu | Download |
| Provisional Merit List of Programme Code U05-3 year B.A Hons. in History | Download |
| Provisional Merit List of Programme Code U06-3 year B.A /B.Sc Hons. in Geography | Download |
| Provisional Merit List of Programme Code U07-3 year B.A / B.Sc Hons. in Economics | Download |
| Provisional Merit List of Programme Code U08-3 year B.A Hons. in Islamic Theology | Download |
| Provisional Merit List of Programme Code U09-3 year B.A Hons. in Islamic Studies | Download |
| Provisional Merit List of Programme Code U11-3 year B.Sc Hons. in Physics | Download |
| Provisional Merit List of Programme Code U12-3 year B.Sc Hons. in Chemistry | Download |
| Provisional Merit List of Programme Code U13-3 year B.Sc Hons. in Mathematics/Statistics | Download |
| Provisional Merit List of Programme Code U14-3year B.Sc Hons. in Botany/Microbiology/Zoology | Download |
| Provisional Merit List of Programme Code U21-4 year B.Tech and 3-year BCA | Download |
| Provisional Merit List of Programme Code U33-5 year Integrated BBA-MBA | Download |
| Notice for Original Document Verification and Final Admission for 4-year B.Sc in Nursing(U31) |  Download |
| Anti-ragging Form |  Download |
| Medical Examination Form (For U-31- 4 year B.Sc in Nursing) | Download |
| Allotted candidates (U31-4-year B.Sc. in Nursing Programme ) are requested to pay admission fees Online by using Username and Password  during 16.08.2022 to 18.08.2022. | Click here |
| 2nd Provisional Allottment List of Programme Code U31-4 Year B.Sc in Nursing | Download |
| Notice to the applicants of Programme Code P-10 (2 Year M.A./M.Sc. in Economics | Download |
| Allotted candidates (U31-4-year B.Sc. in Nursing Programme ) are requested to pay admission fees Online by using Username and Password  during 10.08.2022 to 12.08.2022. |   Click here |
| 1st Provisional Allottment List of Programme Code U31-4 Year B.Sc in Nursing | Download |
| Provisional Merit List of Programme Code U31-4 year B.Sc. in Nursing | Download |