CBSE CTET Answer Key 2023 (Released): The Central Board of Secondary Education (CBSE) has recently unveiled the CBSE CTET Answer Key 2023, bringing relief and curiosity to the candidates who appeared for the Central Teacher Eligibility Test (CTET). This crucial document can be obtained through the official website of CBSE CTET at ctet.nic.in. In this article, we will provide an overview of the answer key, details on raising objections, and a step-by-step guide to downloading the CBSE CTET Solved Key 2023.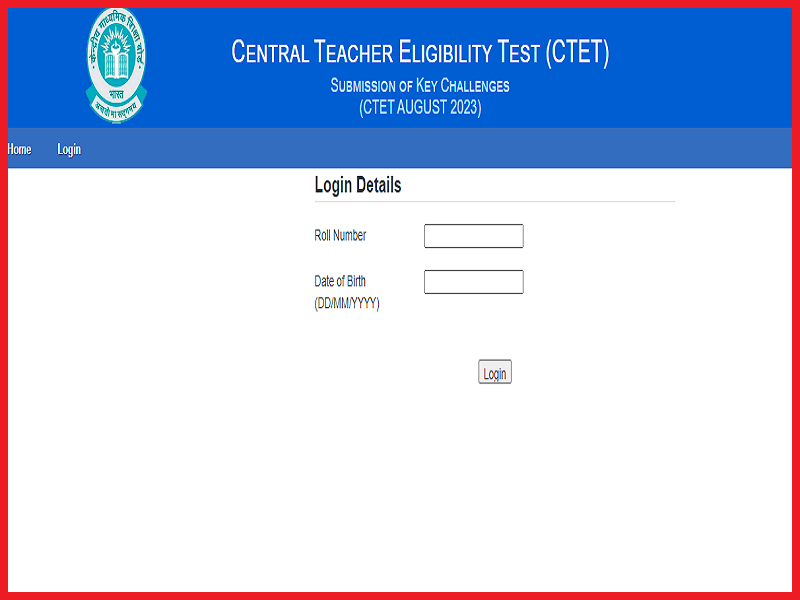 ctet.nic.in Exam Key 2023
The CTET Answer Key for 2023 can be found on the official website of CBSE CTET, which is ctet.nic.in. This key provides candidates with insights into their performance in the examination and serves as a reference for evaluating their answers.
CBSE CTET Answer Sheet 2023 Objections
CBSE has also provided candidates with the opportunity to raise objections against the answer key if they believe that there are errors or discrepancies. Here are the key points regarding objections:
The objection window is currently open and will remain so until September 18, 2023.
Candidates need to submit a fee of Rs. 1000/- per question for each objection.
The fee payment is to be made through credit/debit card.
Once the fee is paid, it is non-refundable.
It's worth noting that if CBSE accepts a challenge and identifies an error in the answer key through subject experts, a policy decision will be communicated, and the fee shall be refunded. Any refunds, if applicable, will be transferred online to the credit/debit card account used for payment.
How to Download CBSE CTET Solved Key 2023 Online?
Obtaining the CBSE CTET Answer Key 2023 is a straightforward process. Follow these steps to access your answer key:
Step 1: Open your web browser and go to the official CBSE CTET website, which is ctet.nic.in.
Step 2: Look for the "Answer Key" or "Answer Sheet" section on the homepage. This section is usually prominently displayed for easy access.
Step 3: Within the Answer Key section, locate the link related to the CBSE CTET Answer Key 2023. Click on this link to proceed.
Step 4: You will be directed to a new page where you can view and download the CTET Answer Key for your respective paper. Make sure to choose the appropriate set or paper code.
Download CBSE CTET Answer Key 2023 << Click Here >>