PJTSAU AGRICET, AGRIENGGCET Result 2023 (Out): Professor Jayashankar Telangana State Agricultural University (PJTSAU) has recently announced the results for the AGRICET (Agriculture Common Entrance Test) and AGRIENGGCET (Agriculture Engineering Common Entrance Test) 2023. These competitive examinations are crucial for aspiring candidates seeking admission to agricultural and agriculture engineering courses in Telangana. The results were eagerly awaited by thousands of hopeful students, and they can now access their outcomes on the official website of PJTSAU.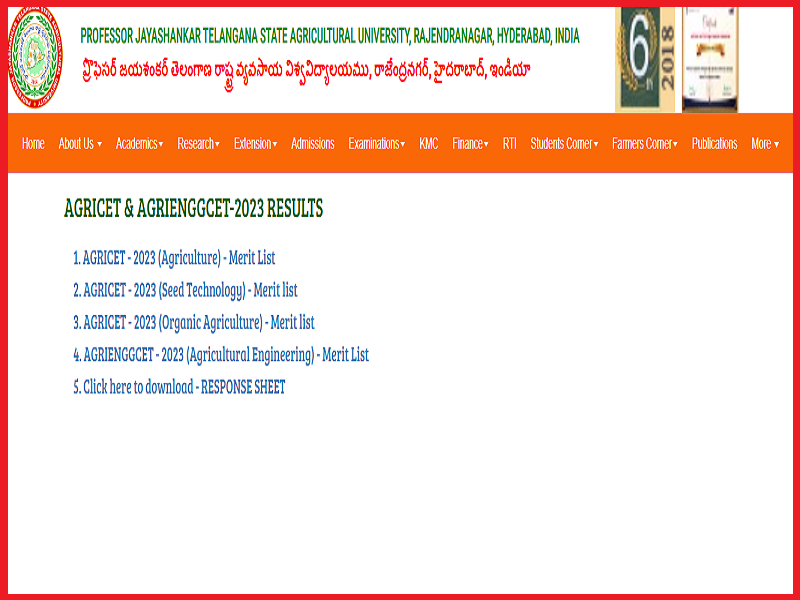 Telangana AGRICET, AGRIENGGCET Cut-Off Marks 2023
One of the critical aspects of any competitive examination is the cut-off marks. These marks are the minimum scores that candidates must achieve to qualify for further rounds or secure admissions. PJTSAU AGRICET and AGRIENGGCET are no exceptions. The university has released the cut-off marks for 2023, which provide valuable insights into the competitiveness of these exams.
The cut-off marks may vary depending on factors such as the number of applicants, the difficulty level of the exam, and the availability of seats in various courses. Candidates are encouraged to visit the official website to check the category-wise cut-off marks and assess their chances of admission.
pjtsau.edu.in AGRICET, AGRIENGGCET Merit List 2023
In addition to the cut-off marks, PJTSAU has also published the merit list for AGRICET and AGRIENGGCET 2023. The merit list contains the names of candidates who have secured the highest scores in the respective examinations. Merit list rankings are crucial for determining the order in which candidates will be considered for admission to their preferred courses.
Candidates can access the merit list on the official website, and it is typically arranged in descending order, with the top scorer at the top of the list. Aspiring students should check the merit list to know their overall ranking and understand their chances of getting admission.
Steps to Check PJTSAU AGRICET, AGRIENGGCET Result 2023 Online
For candidates eagerly waiting to access their AGRICET and AGRIENGGCET results, PJTSAU has made it easy through their official website. Here are the steps to check your results online:
Navigate to pjtsau.edu.in, which is the official website of Professor Jayashankar Telangana State Agricultural University.
Look for the "Results" or "AGRICET/AGRIENGGCET 2023 Result" section on the website's homepage.
Click on the relevant link for your examination (AGRICET or AGRIENGGCET) and enter your roll number or other necessary details as prompted.
After entering the required information, click on the "Submit" or "Check Result" button.
Your result will be displayed on the screen. Make sure to download and print a copy of your result for future reference.
Download PJTSAU AGRICET, AGRIENGGCET Result 2023 << Available Now >>