TN Postal Circle Recruitment 2022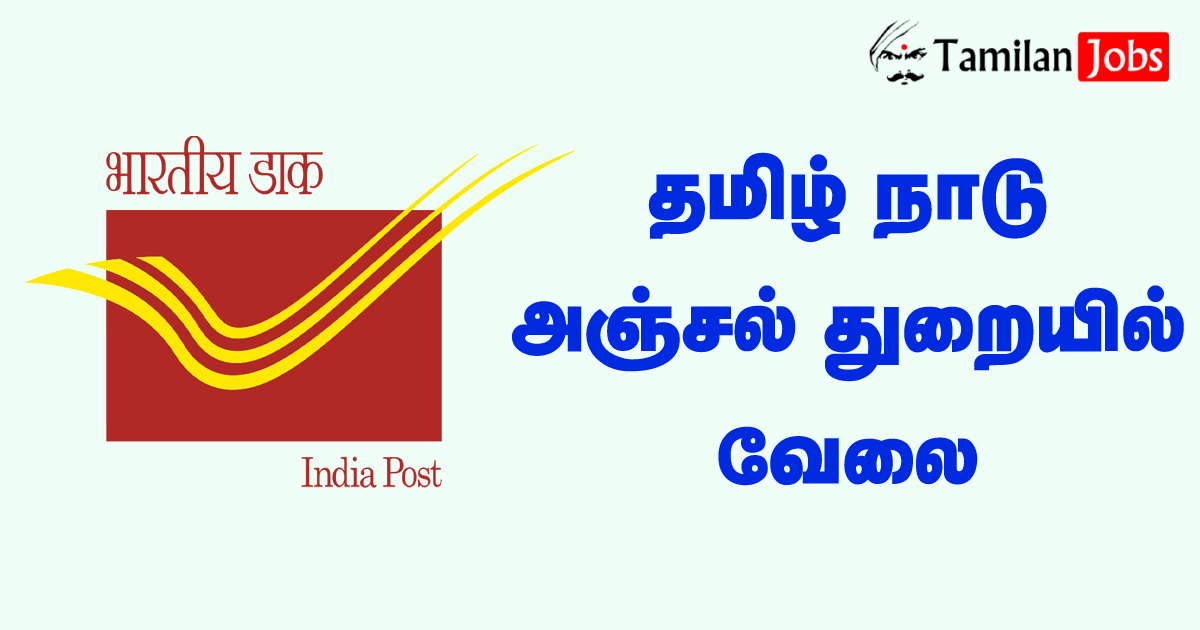 TN Postal Circle Recruitment 2022 free job alert for fresher and experienced candidates. All latest and upcoming notification released on TN Postal Circle Recruitment 2022 is updated right here. Get the direct official link for applying TN Postal Circle Recruitment 2022
Latest TN Postal Circle Recruitment 2022
TN Postal Circle Recruitment 2022 has released Notification for Branch Post Master, Assistant Branch Post Master. Instantly availability of information provided on TN Postal Circle Recruitment 2022 are benefits for candidates and job seekers who looking for jobs in TN Postal Circle Recruitment 2022.
About Post Office
In 1712, Governor Harrison (1711-1717) first started a Company Postal Service in Madras to carry mail to Bengal by dak runner. By 1736, a postal system of sorts was in place with a somewhat greater vision. In 1774, a system of charging postage on private letters began. In 1785 and 1786, civilians John Philip Burlton and Thomas Lewin of the East India Company, respectively, suggested to the Governor of Madras that it was necessary to lay down postal rules, draw up a postal network and establish a postal authority. This warranted establishing a post office in Fort St. George so that the letters of the staff of the company, which were carried free at the expense of the government until then, could be charged for. Accepting this suggestion, the first Madras Post Office with fixed postal charges—the Madras GPO—was established by Governor Sir Archibald Campbell (1786-1790), who also established the Male and Female Orphan Asylums (that developed as St. George's School), and the postal service was thus made a government facility.
How to check TN Postal Circle Job Opening 2022
For the detailed information about the TN Postal Circle job opening 2022 Go to the official website Tamilnadu post.nic.in search of the Announcement link in careers/ Advertisement/ News page, Download or view the official notification in their official website itself, check and verify your eligibility criteria or Visit Tamilanjobs and get the direct official link for TN Postal Circle job opening 2022 notifications detailed.
OFFICIAL WEBSITE:  http://www.tamilnadupost.nic.in/
Qualification Required for TN Postal Circle Recruitment 2022
Candidates are requested to check their qualification required details for the post-TN Postal Circle Recruitment 2022 is 10th, 12th, and Degree. Those who are applying for TN Postal Circle Recruitment 2022, Check official notification for detailed information. Every candidate on the date of the Notification for the post has possessed and adequate knowledge of the local language. Computer Knowledge is an additional Qualification.
 Why Tamilanjobs for TN Postal Circle Recruitment 2022
Tamilanjobs website is a leading job website for all Government jobs notifications. We ensure that none of the government jobs recruitment gets missed out. Tamilanjobs is the one-stop place for TN Postal Circle notification across various sectors within India. We help both fresher and experienced candidates. We ensure that all jobs get notified to all our visitors.
Preparation tips for TN Postal Circle Job Vacancies 2022
Tamilanjobs will help you with its resources like Previous year Question and Answers, Daily Current Affairs, Aptitude skill test, etc. Don't miss this fruitful opportunity. To know immediately about TN Postal Circle (Various Posts) Job vacancies 2022 which are to be announced in the future you can subscribe to Tamilanjobs.
How to apply for TN Postal Circle Recruitment 2022
Candidate should apply through Online on the Official website. In the website, the candidate can go to the online application portal by clicking the link Create your registration on and Fill all correct details, Apply for the 4442 Postmaster job by clicking the apply button Upload your Scanned copy of Photo and Signature to their application form, Check the given details are correct, then submit the application and make the payment if asks otherwise ignore this step.